syncNscan Top Most Features
syncNscan has many amazing features which secure your mobile by providing mobile insurance against liquid damage, accidental damage, theft by violent means, viruses, malware, loss of important data, spam. Its five top most features include:
1. SAFE - Total protection against damage and theft by violent means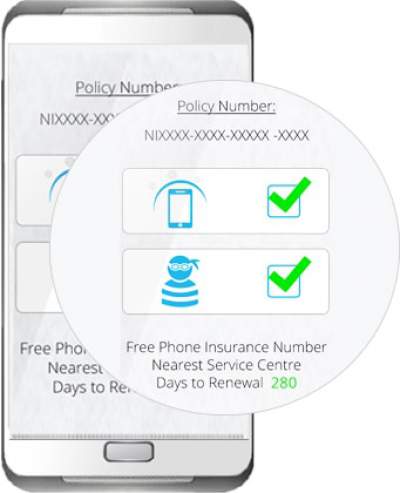 Accidents are abrupt & often uninvited and anybody can be a victim of it.

syncNscan offers protection to your smartphones & gadgets in cases of damages and thefts (by violent means). Some common situations where you can be protected with syncNscan are:

Suffer damage to the exterior or interior component as a result of external impact & such damage cause equipment to stop working
Fails to work because fluid has managed to enter its internal/external circuitry
Theft from violent means or threat to use violence
Stolen from a locked building/room/vehicle to which thief has gained access by force
Fire, lightening and explosion
Act of God perils
Damage or theft by violent means during riot, strike & malicious damage
2. SYNC – Automatically data backup and restore
With syncNscan auto sync feature, you don't have to worry about losing your mobile data like contact details, important messages, call logs, calendar, videos and pictures. Whatever data, information or memories your phone has in it, syncNscan automatically stores the backup for you onto our cloud server. You can backup automatically on daily, weekly or monthly basis. You can view your data anytime (by logging into your web account) and even restore it (to any smartphone) any time. In case of loss of phone, you can restore data from the cloud onto any smartphone and can get yourself restarted in NO time.

No more worries of losing friends, clients, colleagues!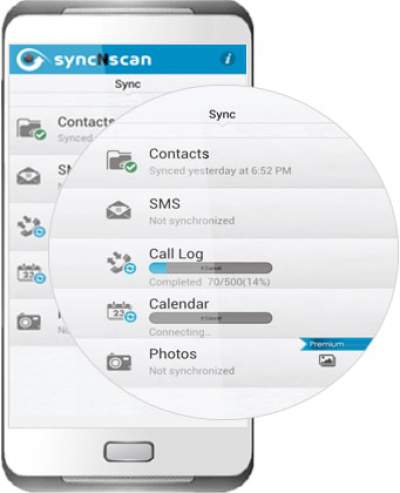 3. SCAN – Track and delete viruses and spam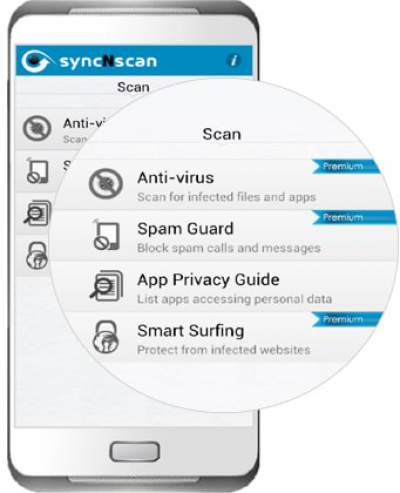 This feature of syncNscan proactively scans your phone against viruses, malware, spyware and trojans and even blocks or deletes whenever required. It not only blocks malicious sites & phishing sites but also helps block spam calls & SMSs via its Spam Guard feature. It also helps you identify personal information that any installed app, on your mobile, accesses.

So, syncNscan is not just an insurance for loss but also keeps you away from viruses!
4. SECURE – Find and lock your lost phone
Your lost phone can now be secured from getting misused!

syncNscan provides an exceptional service of accessing your phone remotely. You can register a friend or a family member as a "trusted friend". You or your trusted friend, in case of loss of phone or theft (by violent means) by violent means, can remotely
- access the location of your phone via google maps
- lock your phone
- wipe your phone data

Let your dear ones help you in case of emergency!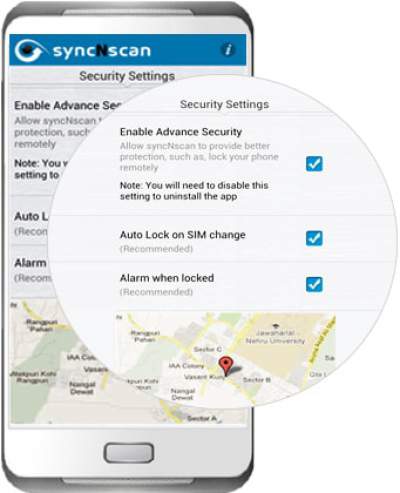 5. SENSE – Understand how you use your phone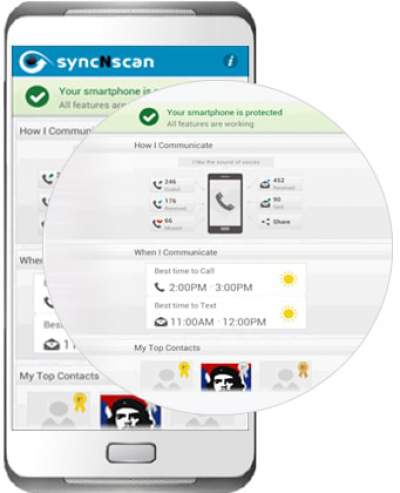 syncNscan understands how you use your phone by sensing your communication styles for example how many calls/SMS you do, how many calls/SMS your receive, how many calls you miss, your preferred contactable time by judging your calls & SMS time, your top contacts whom you call the most and your top choices for websites & apps.